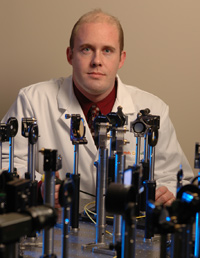 Joseph Carroll, PhD
Associate Professor, Departments of Ophthalmology, Biophysics, and Cell Biology, Neurobiology & Anatomy Medical College of Wisconsin

Research: "Uncovering mechanisms of retinal disease with high-resolution retinal imaging"
Brief Bio
Dr. Joseph Carroll is an Associate Professor in the Departments of Ophthalmology, Biophysics, and Cell Biology, Neurobiology & Anatomy at the Medical College of Wisconsin. He is the co-Director of the Advanced Ocular Imaging Program at the Eye Institute at the Medical College of Wisconsin.
The E. Matilda Ziegler Foundation provided critical support for Dr. Joseph Carroll when he started his new retinal imaging lab at the Medical College of Wisconsin. One of the difficulties with studying retinal degenerations was that current diagnostic tools to assess retinal structure and function were low resolution. Thus, by the time a disruption could be detected, significant damage likely already occurred. Dr. Carroll wanted to focus on applying a novel retinal imaging technique (adaptive optics) to study the living retina. Adaptive optics enables direct visualization of individual photoreceptor cells, providing a much more sensitive tool for studying the retina. In fact, such images can be used to quantify cellular damage on a single-cell level. This technological advance will completely change the way researchers examine the living retina. The funds from the E. Matilda Ziegler Foundation allowed Dr. Carroll to pursue this cutting-edge technology, and then leverage it to secure further research support from the National Institutes of Health.
Since receiving his E. Matilda Ziegler Foundation award, Dr. Carroll has initiated collaborations with numerous clinicians around the world, who direct patients to the Advanced Ocular Imaging Program for high-resolution retinal imaging. His lab studies a wide variety of retinal diseases, including age-related macular degeneration, retinitis pigmentosa, albinism, achromatopsia, Usher's syndrome, choroideremia, and inherited color vision defects. Developing a better understanding of retinal structure and function promises to support the development of sight-saving therapeutic interventions. In fact these very same imaging tools could be used to examine how the retina responds to a particular intervention, with improved sensitivity over existing technology.
Publications:
Visit:
http://www.mcw.edu/ophthalmology/research/JosephCarrollPhD/CarrollLabPublications.htm